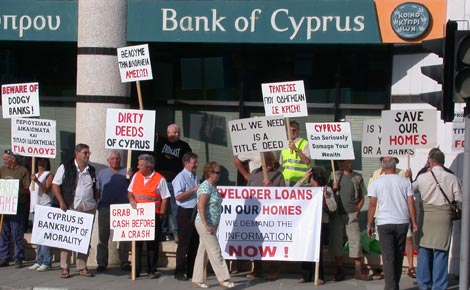 BUYERS deceived into buying mortgaged property crowded onto the narrow pavement outside the Regional Branch of the Bank of Cyprus in Paphos earlier today protesting against the unethical lending practices of the banks.
Organised by the Cyprus Property Action and their supporters, the peaceful protest passed without incident and was attended by around 100 people carrying placards in Greek, Russian and English.
Property buyers in Cyprus are continually being deceived into buying property on land that developers have mortgaged. Many of them have even been granted mortgages to buy their homes from the very banks that loaned the developer the money to buy the land in the first place. But neither the banks nor the lawyers, who are there to protect their interests, advise them of the risks they are taking if they buy property built on mortgaged land.
If the developer collapses or the bank forecloses on his mortgages, those buyers will not only have to pay off their mortgages, but the developers as well. If they do not, they face the very real threat of losing their homes.
People in the Paphos area, whose property developer declared himself bankrupt, have already been told by the bank that their homes could be taken away in order to recover the developer's debt.
A Finnish man I spoke to said that his lawyer had told him the laws in Cyprus and England were the same. Unfortunately he believed her and has now found his home has been mortgaged by the developer.
Another man showed me a document from the Land Registry confirming that his developer took out a €3.5 million mortgage on his development more than five years ago. Neither the bank, with whom he took out a mortgage to buy his home, nor his lawyer told him about this mortgage. And the bank now refuses to tell him how much of that €3.5 million the developer still owes – or whether the developer has paid off any of it at all.
"Cyprus is built on greed and nepotism"
He told me "The property industry in Cyprus is built on greed and nepotism. The developers borrow money from the bank using people's homes as collateral and the banks and lawyers are part of the deception. I have proof that my home has been mortgaged by my developer, but the people in there (pointing at the bank) refuse to tell me anything."
A Cypriot I spoke to was very worried about the economic situation. He bought his house five years ago and has still not got his Title Deed. He believes that the economy will be worse next year. There have been very few tourists this year and that most of them booked their holiday in 2008, and that only a few cancelled. He told me that many companies are having financial problems and that next year will be a catastrophe.
"This island is morally corrupt"
Another protester said "This Island is morally corrupt. Did you know that the chairman of this bank (Theodoros Aristodemou) is also the chairman of Aristo, one of the largest developers here? Don't they have any concept or understanding of conflict of interest?"
President of the Cyprus Property Action Group, Denis O'Hare, said: "The issue is a lack of transparency. People who have bought properties from developers now know that there are mortgages attached to them, but have no way of knowing what the balance is. The sooner they know this, the sooner they would have the option of paying off the mortgage in order to get their Title Deeds. Besides, if you find out that you are the ultimate guarantor of a loan, you need to know what your liability might be."
"The Bank of Cyprus is only the first bank. We'll demonstrate against other banks in other areas in the coming months. We won't stop until we get transparency from the banks over the loans they have given to developers."