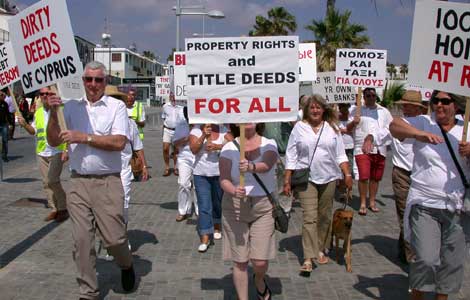 THE Cyprus Property Action Group (CPAG) has re-launched its website in which it provides buyers with information and advice on how to address the risks and deal with the nefarious business practices that plague the Island's property industry.
In April 2010 CPAG closed down its original website due to the risks to those involved in its management and operation. Since that time, the organisation has been busy lobbying the UK Government and the European Union to bring pressure on the Government of Cyprus to resolve the scandalous mess surrounding Title Deeds.
In addition to information and advice, CPAG's new website contains guidance for buyers who wish to complain to the authorities, including the Cyprus' Competition and Consumer Protection Service, MEPs and (for UK residents) their local Member of Parliament.
A spokesperson for the group said: "None of us wish to inflict harm on the Island's property industry or its economy, but we have been forced into this because of the government's failure to protect the legitimate rights of property buyers.
If there is any blame to be attached for our actions, it rests solely with the government of Cyprus for its failure to regulate the property industry".
For more information visit the Cyprus Property Action Group website.