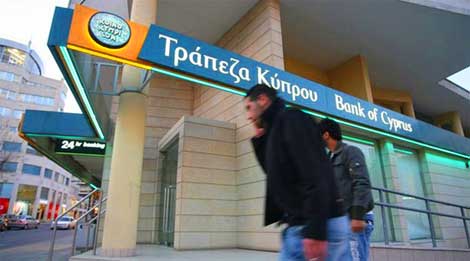 EARLIER today, Moody's ratings agency downgraded the deposit and debt ratings of Marfin Popular Bank Public Co Ltd (MPB) to Ba2/Not Prime, from Baa3/Prime-3, and Bank of Cyprus Public Co Ltd (BoC) to Ba1/Not Prime from Baa2/Prime-2.
At the same time, Moody's confirmed the deposit and debt ratings of Hellenic Bank Public Co Ltd (Hellenic) at Ba1.
The outlook on the ratings of all three banks is negative.
According to Moody's press release, the main factors driving the rating actions are:
High exposures to Greek government bonds (GGBs), amounting to approximately 95% of Tier 1 capital for the Marfin Popular Bank and 55% for the Bank of Cyprus.
Significant lending exposure to the Greek private sector, which will also likely cause a further rise in the banks' non-performing assets and, as a result, weaken profitability.
Challenges to sustain their current funding and liquidity profiles in the context of high levels of uncertainty in the region.
The negative outlook on the banks' ratings reflects the high level of uncertainty surrounding credit developments in Greece and the impact this could have on the banks' overall credit risk and the negative outlook also reflects the weak operating conditions in Cyprus.
Government bonds downgraded
Today's downgrade follows yesterdays announcement by Moody's that it had downgraded Cyprus' government bond ratings to Baa1 from A2 over "ongoing concerns about Cyprus' fiscal position, which are amplified by the fiscal and economic consequences of the destruction of the Vasilikos power plant on 11 July 2011".
Yesterday's announcement also referred to "the increasingly fractious political climate in Cyprus in the wake of the plant's destruction".
Adding that "This adverse development increases implementation risk to the government's plans, many of which will require not just cross-party support, but also acceptance by the trade unions".
Moody's also said that the "government may need to extend capital support to at least some of its banks over the next few years given the substantial exposure of Cypriot banks to a sovereign default and macroeconomic stress in Greece".
The outlook is now negative, Moody's said.