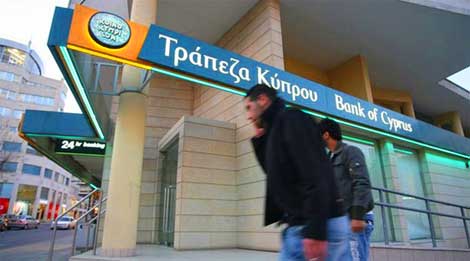 BANK of Cyprus (BoC), the island's biggest lender, has posted a €1.01 billion net loss for 2011 after taking provisions for a Greek sovereign debt swap.
BoC said the total impact of its participation in a voluntary swap of Greek government bonds with a 60% impairment, amounted to €1.3 billion for 2011.
The nominal value of the Greek government bonds held by the group, after the write-down, totalled €975 million at the end of December 2011.
The total nominal value of bonds affected by the write-down was €2.08 billion.
Excluding the impairment, the group's net profit for the period reached €312 million, an annual increase of 2.0%.
Profit before provisions and tax reached €802 million – up 11%.
"Due to the uncertainty concerning the Greek bond swap program, the group has cut the nominal value of the bonds it holds by 60 percent, a fact that affects net profits," a joint statement by BoC chairman Theodoros Aristodimou and CEO Andreas Eliades said.
However, the bank also said its final audited results for last year could "potentially be materially different" from the preliminary results due to the final terms of the private sector involvement for the restructuring of Greek public debt.
Eurozone finance ministers yesterday agreed on a €130 billion rescue for Greece to avert an imminent chaotic default after forcing Athens to commit to unpopular cuts and private bondholders to take bigger losses.
The accord will enable Athens to launch a bond swap with private investors to help put it on a more stable financial footing and keep it inside the euro zone.
Private sector holders of Greek debt will take losses of 53.5% on the nominal value of their bonds, which equates to a loss of around 73 to 74 percent on the net present value of the bonds.
BoC said it is pushing ahead with its plan to boost capital, expected to be complete next March.
It will do so through a rights issue of up to €396.3 million and a voluntary exchange of convertible securities of up to €600 million, the lender has said.
"With the completion of the program and the very satisfactory liquidity it possesses, the group will actively continue to support its customers and the economy," the joint statement said.
The bank said that excluding the write-down, it has achieved its profitability goals for the year and "remains in position to tackle the challenges of the uncertain economic environment."
The bank closed the year with a total of €28.9 billion on its loan books, a 4.0% rise from 2010.
Some €10 billion in loans were given in Greece.
Deposits were down 7.0% at the end of 2011 – €29.7 billion.
The percentage of non-performing loans reached 10.2 in 2011, compared with 7.3% in 2010, the bank said.
Non-performing loans in Cyprus were 9.5% while the respective figure for Greece was 11.6%.