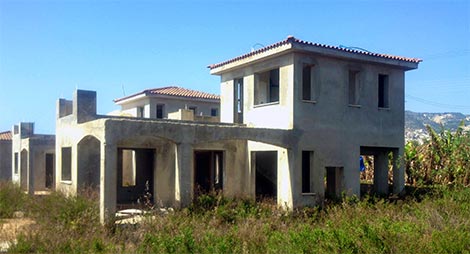 CYPRUS' three largest banks, Bank of Cyprus, Popular Bank and Hellenic Bank are involved in ambitious capital raising exercises to cover massive losses sustained on their Greek sovereign debt exposure and distressed property holdings in Greece and Cyprus.
The attempt to reach the capital targets may however not be successful if the banks don't rush to offload distressed and non-core assets.
Bank of Cyprus and Popular Bank have already disposed of their assets in Australia and Popular Bank recently completed the sale of more subsidiaries in east Europe, but the proceeds from such sales is not enough to cover the massive capital injections that the banks need.
The banks need to offload billions of Euros of property left on their books by bankrupt developers, who would have gone under if it had not been for the vain attempt by the banks to keep them afloat. Cypriot banks appear to think that the people are stupid and they will rush to buy property at current inflated prices when they know well that sooner rather than later, banks will offload the distressed property.
The question is not if, but when.
And the way to offload the distressed property is very simple and is already being done in Spain with great success and I'm sure will be repeated in Cyprus soon. Two weeks ago, Reuters had an article on how Santander, the euro zone's largest bank, offered a two-bedroom apartment in Sesena area near Madrid with a communal swimming pool for €65,000, with 100 percent mortgage over 40 years, costing as little as €242 a month to service, about a sixth of the average Spaniard's monthly income.
At the peak of the decade-long property boom that preceded the crash, similar apartments would have sold for at least twice that, and for properties it isn't selling, a Santander mortgage would cover 80 percent of the property price over 25 years.
Like Santander, most Spanish banks offer 100 percent financing over 40 years at interest well below the market rate to get rid of the homes that sit on their balance sheets, eating up capital in provisions and costing money in taxes and maintenance.
Guess what? According to Reuters, the apartments were selling so fast that the banks could not fill in demand. The banks in Cyprus similar to those in Spain, Greece and other countries should realize that since it was their stupid lending schemes that created the property bubble in the first place, they now need to fix the problem by at least offering the distressed property at huge discounts to attract interest.
Local property experts will quickly realize who much Cyprus property is expensive compared to similar property offered in Spain and Greece, which is also on the radar screen of foreign buyers.
Banks also need to offer 100 percent mortgages spread over 40 years, similar to that being offered in Spain to allow Cypriots who were forced out of the property market to come back and purchase decent property at affordable rates. As the Reuters article revealed, the €242 a month mortgage offered by Santander in Spain is about a sixth of the average Spaniard's monthly income.
Assuming that the average monthly income of a Cypriot male is €2,250 a month, such a ratio would mean a monthly payment of €375, spread over 40 years.
Vassos Shiarly, the new Finance Minister knows the banking industry better than anybody else and he also has the experience and knowhow on how the lending market should develop from here onwards. He needs to impose tough conditions on the banks to go back to basics, sell non-core assets and distressed property, offer affordable mortgages that among others will allow banks to slowly repair damaged balance sheets.
About the author
Shavasb Bohdjalian is a certified Investment Advisor and CEO of Eurivex Ltd., a Cyprus Investment Firm, authorized and regulated by CySEC, license #114/10 and approved by the Cyprus Stock Exchange to act as Nominated Advisor for listings on the Emerging Market. The views expressed above are personal and do not bind the company and are subject to change without notice.