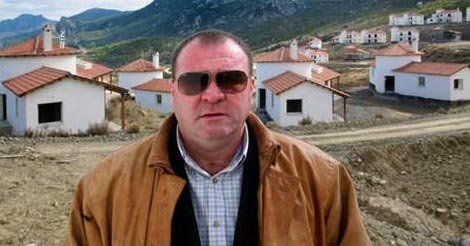 IT HAS been a bad couple of weeks for Gary Robb, the British national sentenced here to a ten-month jail sentence for the appropriation of Greek Cypriot property in the north.
This week the Supreme Court in Nicosia rejected an appeal by Robb's lawyers to reduce the length of the sentence.
The appeal had been filed on the grounds that the offences were committed between August 2004 and April 28 2005, and that therefore the offences should be judged under the penal code applying before March 31 2005.
The penal code was amended on that date, providing for more severe penalties. Robb's lawyers argued that sentencing should have been based on the regime applying before March 31 2005.
However the Supreme Court rejected the appeal, noting that the offences in question could not be deemed as having been committed in distinct periods – i.e. before and after March 31 2005.
In its judgement the top court said that, far from being severe, the 10-month jail conviction was lenient. The maximum sentence provided under the law is two years. Previously (prior to March 2005) the maximum sentence had been six months.
Robb was sentenced last September, having been found guilty on charges of developing and selling property belonging to the Republic of Cyprus and to Greek Cypriots without their consent. Last August he was extradited to Cyprus by Britain, after serving a drugs-related prison sentence there.
Robb was one of the managers of a Turkish Cypriot development company, called AGA Development LTD. The company aimed to build 335 luxury residences in the occupied village of Klepini, in the northern Kyrenia District.
Construction work began on January 9, 2005 and by the end of April of 2005 around 85 per cent of the residencies had been sold, with the selling price ranging from 50 to 100 thousand Cyprus pounds. The project was never completed.
Also this week in the north a group of British nationals who bought houses by Aga Development expressed their dissatisfaction with the fact that their houses which are located at occupied Vasilia village and were seized by Akfinans Bank, are going to be sold in a public auction on May 6.
The British nationals moreover said that 900 more houses would be sold in a public auction.
Yet another blow to Robb's fortunes came late last month, when a High Court Judge in London ruled that almost £1.66m sterling in a bank account belonging to Robb is the proceeds of crime.
The case was brought to court by Britain's Serious Organised Crime Agency (SOCA). In the civil recovery proceedings, SOCA argued that Robb had derived the money through fraud, in particular obtaining property by deception and conspiracy to defraud, in connection with his property development schemes in north Cyprus.
His scheme was to market and sell 65 villas in Hz Omer and 250 in Amaranta Valley "off plan" through a local estate agent between February and October 2004. According to the SOCA statement released after the ruling, "further investigation showed that Mr. Robb offered his clients incentives such as a 10 per cent discount if they paid in full up front. By January 2005 Gary Robb was spending much of his time in Thailand and work on both sites had almost ceased. Most of the houses in Hz Omer were built but with significant complaints and only one villa in Amaranta Valley was completed, at the expense of the clients themselves."
The London court found that for the seven-month period between February and July 2005 Robb, who was attempting to transfer frozen funds out of north Cyprus, was acting dishonestly and fraudulently, and conspiring with others to remove as much money from the business as possible. The money was stopped by the UK authorities.
There will now be a civil process whereby alleged victims of Robb will bring applications for a declaration that part of the money in the bank account belongs to them.
SOCA's Stephanie Jeavons said: "SOCA's absolute priority was to stop these funds being returned to Mr Robb. No matter where criminals are, SOCA wants to ensure they do not profit from their illegal activity. Gary Robb deliberately cheated his victims, now he will lose his illicit profits."