FIGURES released by the Department of Lands and Surveys on Wednesday show that the downward trend in property sales to the domestic market gathered momentum in December with numbers falling 40 per cent compared to December 2011.
According to the figures, the number of contracts of sale deposited in favour of domestic buyers at Land Registry offices throughout Cyprus stood at 323 compared with the 535 deposited in December 2011.
Sales were down in all areas. Limassol was hardest hit where 66 fewer properties were sold (-47%) followed by Paphos, where sales fell by 63 (-47%). Sales in Famagusta fell by 17 (-42%), while in Nicosia and Larnaca they fell by 45 (-31%) and 21 (-28%) respectively.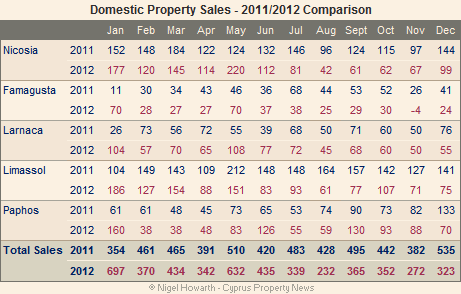 Annual performance
Looking at the number of sales to the domestic market over the year, there was an overall fall of 11 per cent compared with 2011. With the exception of Larnaca and Paphos, where sales increased by 135 (+19%) and 130 (+15%) respectively, sales fell in all districts.
The total number of sales to the domestic market in 2012 stood at 4,793. This is the lowest number of sales this century and down by more than 60 per cent on the 12,214 properties sold in the year 2000.