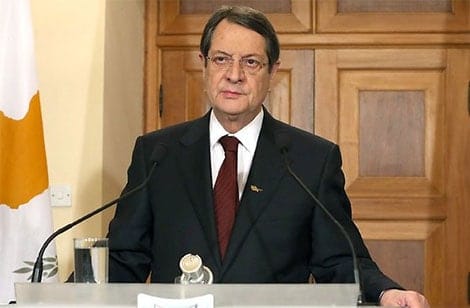 CYPRUS President Nicos Anastasiades said Sunday that foreigners with bank deposits in Cyprus who lost at least €3 million under an EU bailout for the island would be given passports.
"Non-resident investors who held deposits prior to the bailout and lost at least €3 million will be eligible to apply for Cypriot citizenship," he told a Russian business conference in Limassol.
Furthermore, the "Citizenship by Investment" programme will be revised to reduce the minimum investment required for obtaining Cypriot citizenship to €3 million and will widen its eligible investment sectors.
The existing restriction, whereby assets worth €15 million have to be committed for up to 5 years, will be lifted to permit the committed assets to be readily available for use.
"We believe that a number of measures to be adopted could on the one hand mitigate to some extent the damage the Russian business community has endured," he added.
He said the measures, which primarily affecting Russians, would be approved at a two-day cabinet meeting starting on Monday and that "these decisions will be deployed in a fast-track manner and other measures, currently under consideration."
The government is also "examining various scenarios which could permit the compensation of part of the losses which shareholders of banks, holders of debt securities and depositors have suffered," Anastasiades added.