PRICES of residential properties in Cyprus are almost double those of 2003, according to new statistics from the European Central Bank.
The statistics show a sharp rise in property prices in recent years, resulting in the exclusion of many first-time homebuyers from the market.
The residential property price index from the European Central Bank also shows that, despite the reduction in sales, the fall in property prices is relatively small compared to the large price corrections that have taken place in the other "memorandum" countries of Spain and Greece.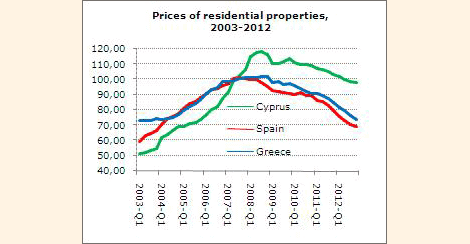 According to ECB data elaborated by StockWatch, property prices in Cyprus were 90% higher in 2012 compared to ten years ago.
The only country that shows a higher increase in property prices is Estonia, where prices have risen  by 97% since 2003.
In France, prices rose by 73%, in Belgium by 81% and in Germany by only 18%.
Things are different in the countries of memorandum. In Greece, prices have dropped to levels of 2003, having lost close to 30% of the levels they were in 2007.
In Spain, the decade increase is restricted to 17% and in Portugal to 10%.
On the other hand, residential property prices in Ireland have suffered significant and rapid correction having dropped to levels 20% below the 2003 prices.
Based on the European Central Bank statistics, prices of new and old residential properties in Cyprus recorded one of the biggest increases in the eurozone. From 2003 to 2008, prices jumped by 130%; in the past five years they have dropped by 17%.
The relatively mild correction emerged despite the large decline in sales from 12.6 thousand units in 2003 to about half that number in in 2012.
The rapid development of real estate led to an oversupply in the real estate market, which is currently not being absorbed due to the difficulties in the disposal of properties by the banks.
Banks have recorded hundreds of millions of losses from bad loans in the industry. According to Pimco, the Bank of Cyprus is estimated to have suffered losses of €0.8 billion from loans to developers.