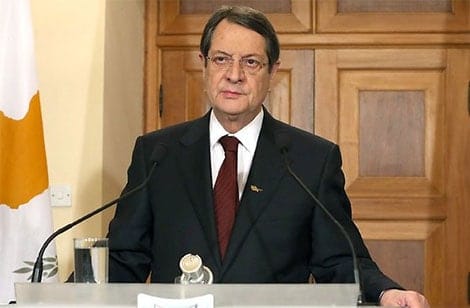 PRESIDENT Anastasiades has offered his full support to the Bank of Cyprus CEO John Hourican saying that those who owe the financial institution money have no option but to pay.
The President made the statement when he was asked to comment on reports that the bank was putting increased pressure on thirty large borrowers, whose total non-performing loans exceed €6 billion, to pay. He also noted that no-one in Cyprus has the luxury to act as in the past and this needs to be hammered into the conscience of each and every resident of the island.
The President also referred to past errors, behaviours and inadequate supervision, all of which had contributed to the island's financial situation as it stands today.
In closing, President Anastasiades said that he is ready and willing to adopt any measures that could improve the health of the Bank of Cyprus.
(In its second review of the Cyprus economic programme, the Troika noted that the Bank of Cyprus will:
"In the medium-term two separate units will be created, one for "normal" NPLs, and one "Special Projects Division" for the top 22 corporates and real estate developers. With a focused approach, it will be attempted that the NPLs of the top 22 corporates will either start performing again or that action may be taken to seize the collateral.")