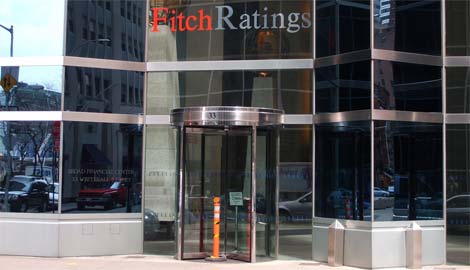 ON FRIDAY, Fitch ratings agency upgraded the Bank of Cyprus (BOCY) long-term issuer default ratings (IDR) to 'CC' from 'RD' and Hellenic Bank (HB) long-term IDR to 'CCC' from 'RD'.
It also upgraded the two banks' short-term IDR to 'C' from 'RD', while affirming BoC's viability rating (VR) at 'cc', HB's VR one notch higher at 'ccc'.
The agency said the upgrade came as a result of the lifting of the domestic capital controls on May 20, which have been imposed since the agreement on a €10 bln bailout by the Troika of international lenders including the ECB, EU and IMF in March 2013.
"Although restrictions remain on cross-border outward capital flows, these banks are now substantively able to service all their obligations," Fitch pointed out, adding however, that the remaining capital controls, especially outward "is unlikely to be fully implemented before the end of 2014."
Fitch believes that BOCY's and HB's VRs are influenced by the recession in Cyprus, which continues to put at risk the two banks' very weak asset quality, as well as weak profitability and vulnerable capitalisation.
The agency considers asset quality as one of the main concerns for Cypriot banks. In 1Q14 both banks' non-performing loans (NPLs) continued to increase, albeit at a lower rate than past quarters, reaching 55% at BOCY and 49% at HB of gross loans and Fitch expects loan quality to weaken further in the near future, although more moderately.
"The two banks' most important challenge will be to improve NPL recoveries, for which banks have internally strengthened their recovery units. NPL coverage remained low in Fitch's view in a stress scenario at 35% for BOCY and 43% for HB at end-1Q14," it added.
Noting that customer funding in 2013 started to stabilise following large deposit outflows in 2012, Fitch said that the two banks' deposit franchises remain and highly vulnerable to Cyprus' recession and could also be affected by the recent lifting of domestic capital controls and notably the anticipated gradual lifting of cross-border capital controls.
The agency notes that in the absence of further liquidity shocks, Bank of Cyprus' dependency on central bank funding will decline further, but will remain large in the foreseeable future, indicating material funding constraints.
With regard to the two banks' viability rating, Fitch noted that while limited in the short-term, the VRs could be upgraded if pressure from unreserved NPLs ease and/or capital materially improves and further profitability improvements are evidenced.
BOCY's VR could also be upgraded if there is a significant reduction in central bank funding. An upgrade of the Cypriot sovereign rating (B-/Stable) would also put upward rating pressure on the banks, if this is associated with improved macro-economic fundamentals.
Conversely, the VRs would be downgraded because of a weakening of the banks' asset quality and profitability, resulting in significant capital erosion, or if their funding profiles become more unstable and deteriorate.
In Fitch's view, BOCY remains more at risk of a VR downgrade than HB.