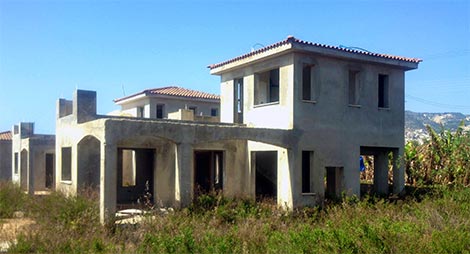 GOOD governance is paramount to a healthy economy. This week I include land registries, planning departments, building inspectors, mayors and councillors to last week's list of dishonest and greedy developers in cahoots with bent lawyers, bankers and politicians – miscreants all. The administration is rotten to the core
On-going investigations into land registry misdealing are only the tip of the Cyprus property scam iceberg. The 'big meltdown' is finally underway.
Bad governance was of little consequence years back, when land and building costs were relatively cheap and 'foreign' interest minimal.
Parents scrimped and saved to build homes to marry off their daughters; bank loans rarely came into play. Then 'Charlie' money arrived from the colonies, land prices soared and the indigenes became rich on the backs of emigrant relatives, who chose to build homes here for their dotage. Add to that northern Europeans seeking a place in the sun, and the construction industry boomed from 1976 until 2008.
During the boom, bad governance became 'an industry', sweeping up in its wake honest government employees – join us or stay quiet, oppose us and be denied promotion.
By the time the financial crisis finally hit Cyprus, the entire administration was under the control of 'the property scammers'. And we know who they are; it's just a matter of 'disinfecting their books' with a fine tooth comb for our courts and hospitals to overflow with the vermin that brought this country to its knees.
Like cockroaches, certain developers 'scavenged', and 'under the cover of darkness', swamped mayors and land registry employees with bribes; 'Green Belt' became building land unchecked and buildings were built that should never have been. Cracks appeared in those buildings that shouldn't have had building inspectors been permitted to do their jobs properly.
Most buildings were not constructed to plan, but the relevant government department failed to notice until the occupant (usually an ex-pat) chose to sell. And when he/she did, he/she learnt during an unsolicited visit from a building inspector that the house 'did not conform' to plan – 'subtle' delaying tactics aimed at perpetuating developer sales.
Occupants were obliged to employ architects, submit new plans and wait (sometimes years) upon the planning department's good offices. In the meantime, many occupants discovered that the developer had mortgaged the land on which their property was built, and the sale of property on that land would be held in limbo until the developer had repaid the mortgage.
Such a vicious circle of deceit drove many occupants to take anti-depressants, consume excessive amounts of alcohol and finally, litigate pointlessly before throwing in the towel – unforeseen knock-out blows delivered by a manipulated administration in cahoots with corrupt developers, bankers and lawyers led many to wish they'd never set foot on our shores.
Certain politicians ate from the same developer bowl, becoming accessories to the fact; for a fistful of euros they sat by and watched as the economy and construction industry sank inextricably.
So many certificates are required ahead of selling a house in the UK that purchasers sleep easy in the certain knowledge that their home will not collapse from dry rot, that the foundations are sound and the walls are insulated and properly damp proofed, that the electrical wiring conforms to EU standards and the roof structure will withstand a force eight gale. Detailed searches are performed at land registries by solicitors, who are held responsible for declaring rightful ownership ahead of exchange of contract between vendor and purchaser.
None of the above applies here, yet! But it's gonna' come. That's for sure!
Our construction industry will be dragged out of the dark ages and be made to conform. Until 2012 we only sought purchasers. Today, the number of vendors greatly exceeds that of purchasers, and the entire property scam, which relied on an unbroken run of purchasers for its existence, has collapsed.
We are now faced with the first law of economics – supply and demand. There is gross oversupply and little demand. And we all know what that means. The administration will invent yet more ruses to delay the sale of private property for the sake of crooked developers, whose unsold housing stock now exceeds that which they sold sub-standard and illegally.
Add foreclosures/repossessions forced by banks from January 2015, and 'half' the island will be up for sale by the end of next year – and surprise, surprise – the same foreclosures legislation applies to Greece! Banks both there and here, indifferent to present or future legislation, whatever it is, are already sending out foreclosure/repossession letters to thousands of hopelessly indebted householders.
On paper, the hopelessly indebted have already lost their homes and no amount of populist political interference will save them…
The troika have stuck a foot in the door of our banks, and this time, the door will remain open.
Six billion euros of NPLs are owed by our developers to banks, and if you think for a moment that Aristo Developers would have been investigated had the troika not been in charge here, you are mistaken.
Who is next in line for investigation? We pay for our sins in this life, not the next! Unfortunately, our children will also have to pay for those who brought the country down. But rather than glorify them as eternal heroes, they will refer to them as vermin.