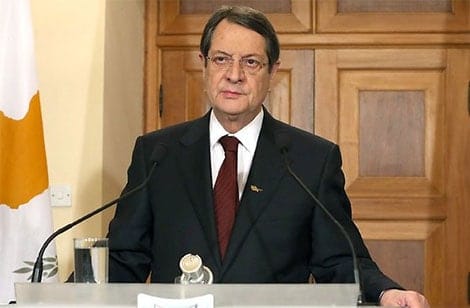 PRESIDENT Nicos Anastasiades said on Friday all capital controls imposed on the island in 2013 to stem a cash flight will be lifted on Monday.
"As from next Monday, the last restrictions on capital movement concerning transactions and capital transfer abroad will be lifted," Anastasiades said during a news conference.
"The lifting of the remaining restrictions signals the final restoration of confidence in our banking system" he added.
"From today the positive prospect for raising investments in full trust and confidence conditions is reinforced. The ability of banks to raise capital and to finance safely the economy is boosted, with a positive impact on the support of citizens, businesses and development" he concluded.
Cyprus introduced the controls in April 2013 to prevent outflows after a chaotic bailout forced the closure of one bank, and a second bank seized deposits to recapitalise.
It was the first time controls were imposed in the history of the eurozone.
It has since lifted all domestic controls but despite being eased significantly, some restrictions remain on international transactions.
Asked about the timing of the easing while Greece was in crisis over its own bailout programme, Anastasiades said: "We want to hope that there will be no further deepening of the crisis with Greece."
Cypriot banks, he said, had fully severed their links with the Greek banking system following the 2013 crisis.
Since the crisis struck in 2013 deposits shrank to €46.5 billion at the end of February compared with €65.5 billion in the same month of 2013.
In its decision to revise the outlook for Cyprus to positive on 27th March, Standard & Poor's said "Although domestic capital controls were completely eliminated in May 2014, we see uncertainty regarding the impact of elimination of the remaining controls on international transactions on the stability of private-sector deposits."