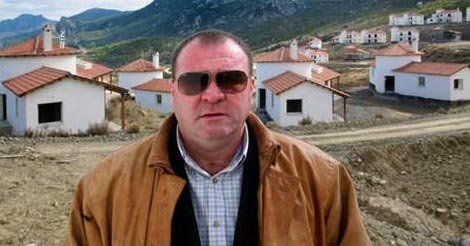 PROPERTY fraudster Gary Robb, who was sentenced to ten-months in jail in connection with a case involving the appropriation of Greek Cypriot property in the northern Turkish occupied area, has had £1.3 million of his assets returned to scam victims.
In an interview with GazetteLive Donald Toon, director of economic crime command for the National Crime Agency who worked on the case, said: "This case is the first time that this legislation has been used to both disrupt serious criminal activity, and enable victims to reclaim funds.
"Achieving today's result has taken a determined effort over several years.
"The NCA will be patient and persistent, and will continue to use every tool at its disposal to disrupt criminals like Robb and deprive them of the assets they acquire through crime."
Robb, a convicted drug dealer and former nightclub boss, was one of the managers of a Turkish Cypriot development company "AGA Development Ltd" which aimed to build 335 luxury properties in the occupied village of Klepini, in northern Kyrenia.
Construction began in January 2005 and by the end of April some 85 per cent of the properties had been sold to mainly British buyers for between CYP 50,000 (€85,500) and CYP 100,000 (€171,000), but the project was never completed.
In September 2011 the Nicosia District Court convicted Robb on 11 charges relating to the appropriation of exploitation of Greek Cypriot owned property in the occupied areas and sentenced him 10-months in jail. Although Rob appealed to have his sentence reduced, the island's Supreme Court rejected it in April 2012.
At that time British police thought that around 400 Britons collectively lost over €40 million in deals with AGA Development.