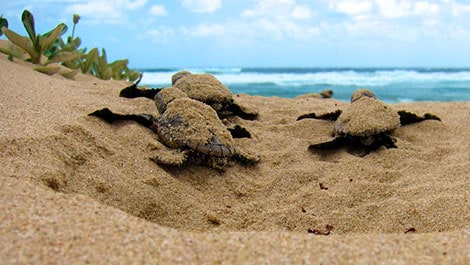 THE DEPARTMENT OF ENVIRONMENT is set to review a new environmental study for the area today (1st March), where a Shacolas Group company is planning the construction of two golf courses at the abandoned mine in Limni, near Polis Chrysochous.
The new plan has reportedly been improved to meet the strict criteria and guidelines set by the European Commission on the Natura 2000 network.
Earlier plans submitted in 2008 by the company failed to get permission by the department after the Commission had learned that tourist facilities in the area, next to Natura 2000, had led to the clearing of flora while lights and noise from the complex were a disturbance to the turtles nesting on the beach.
The multimillion golf course project at Limni Resort, according to a letter by the Commission, noted that trees had been cut and the coast cleared without permission and or proper environmental study for the Natura 2000 network.
But the new study, conducted by two civil and environmental engineers, brings new and updated information for the site, where Cyprus Limni Resorts and Golf Courses plans to turn a neglected and abandoned mine into a golf course oasis.
The project will include two 18-hole golf courses, two club houses, sports facilities, shops, parking, pedestrian and cycling lanes, residences, a small hotel with 160 rooms, and a number of single-storey private bungalows.
A central sewerage system for rainwater will be constructed according to the new plan, which will manage runoff in the area under development.
New systems will also be used to enable water reuse for the golf courses that need a lot of water.
The Department of Antiquities has also asked that the company halt immediately any construction in the event of an ancient find.
There are reports that debris has already been cleared from the area.
In April 2015 Cyprus was cautioned by the EU Commission to respect the Natura 2000 guidelines and asked for a conservation study to be commissioned on the effects of the project and surrounding areas – and sent an official letter to Nicosia instructing the government to cancel building permits for two golf courses.
This conservation study was bypassed by the state during the final days of the Christofias administration in order to speed up the process.
In 2010 more than 3,500 people signed a petition to stop the development of the Limni site for the golf course and villas complex.