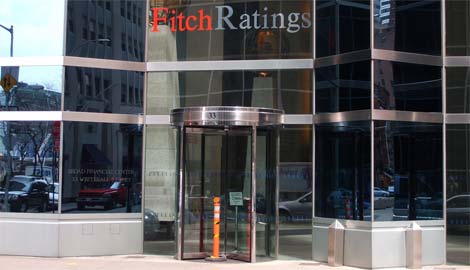 FITCH Ratings said that "Cyprus is undergoing a major financial sector, fiscal, and economic adjustment following the 2013 banking sector crisis and the ensuing EU/IMF bail-out programme" and noted that "the country's early exit from the macroeconomic adjustment programme in March 2016 reflects a track record of fiscal consolidation, progress in financial sector restructuring and economic recovery".
It added, however, that a number of factors "continue to weigh heavily on Cyprus' credit profile", noting that the government debt was close to 109% of GDP in 2015, "reducing Cyprus' fiscal scope to absorb domestic or external shocks" and the banking sector's "exceptionally weak asset quality", with assets four times the country's GDP, which "undermines economic stability and growth".
"The country's weak external position implies that further economic rebalancing may be in prospect over the medium term" Fitch said.
The rating agency also noted that economic recovery is underway, following three years of contraction resulting in a cumulative 11% loss of output until end-2014 and projects GDP growth of around 2% per year for 2016-17, supported by household consumption benefiting from a decline in unemployment, and a pickup in tourism and investment.
Furthermore it said that banks remain fundamentally weak and pose an ongoing risk to the economy and public finances. "The ratio of consolidated sector NPEs (non-performing exposures) to total loans stood at 45% in December 2015, one of the highest of Fitch-rated sovereigns, though down from a peak of over 50% in 2014".
"Major steps have been taken to restructure the banking sector" the rating agency said, however, "some 30% of restructured loans since January 2014 were in arrears (including of short duration) by end-2015".
Fitch projects budget surpluses of 0.2% and 1% of GDP for 2016 and 2017, respectively, "reflecting a neutral fiscal stance that is supported by the economic recovery". The gross general government debt is projected by Fitch to decline to below 100% by 2017.
Fitch sees progress with structural reforms, including selling the Limassol port and Casino, however it said that a number of bills are currently awaiting discussion in parliament following the May elections. "The improved economy and exit from the adjustment programme could reduce the urgency for reform".
It noted that a deal on the solution of the Cyprus problem "would benefit both sides".
Rating sensitivities
Fitch highlighted a number of sensitivities that could lead to possible upgrades and downgrades in the country's credit ratings.
Possible upgrades may result from:
Further signs of a stabilisation in the banking sector, including a pick-up in loan restructurings.
Further track record of economic recovery and reduction in private sector indebtedness.
Continued fiscal adjustment leading to a decline in the government debt-to-GDP ratio.
Narrowing of the current account deficit and reduction in external indebtedness.
A sustained track record of market access at affordable rates.
Possible downgrades may result from:
Re-intensification of the banking crisis in Cyprus.
A reversal of fiscal discipline, resulting in a less favourable trajectory in debt-to-GDP.
A return to recession or deflation with adverse consequences for public debt.
A lack of market access, putting pressure on government and banking system liquidity.