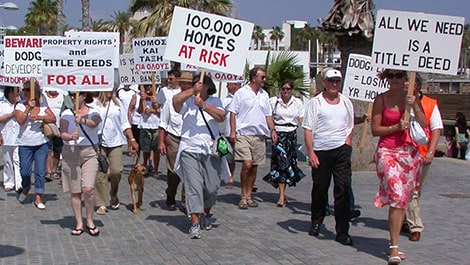 THE GOVERNMENT will take another swing at fixing the problem of 'trapped' property buyers, after a law passed in 2015 failed to adequately address the Title Deeds mess.
In parliament on Monday, land registry director Andreas Socratous said an amending law has been drafted whereby, in order for a bill of sale to be submitted to the land registry, the property in question must be free of any encumbrances.
In the wake of the law on forced property transfers, said Socratous, some 15,000 applications were filed, of which only 7,000 had a Title Deed.
Of these 7,000 properties, around 3,500 have since been transferred.
The 2015 law aimed to sort out the mess created by the failure to issue Title Deeds to people who paid for their property, either because the property was mortgaged by the developer, or the state could not go ahead with the transfer because of outstanding taxes.
Since developers' land and buildings are counted as assets that need to be offset against their debt to banks, this gave lenders a claim on people's properties that had been mortgaged by developers.
The land registry estimates there are 70,000 of these trapped property buyers.
The 2015 law granted the head of the land registry the authority to exempt, eliminate, transfer and cancel mortgages and or other encumbrances, depending on the case and under certain conditions.
But following a string of court decisions, where banks objected to the law, the land registry had suspended procedures, as authorities contemplated their next move.
Nonetheless the attorney-general's office had instructed the departments involved to continue implementing the law while appeals are filed at the Supreme Court, which will have the final say on the matter.
According to Socratous, to date the banks have brought around 250 cases to court. A significant proportion of the cases involve Alpha Bank, he said.
Some of the court cases have been won by the banks, largely on the grounds that the buyer's claim on the property infringed on the contract between the bank and the developer.
But in September, the Larnaca district court did uphold the 2015 law, allowing trapped property buyers to obtain their Title Deeds irrespective of the developers' own commitments to banks.
Due to the confusion and mixed signals in the wake of the law, the government is now looking to iron out the kinks in the legislation.