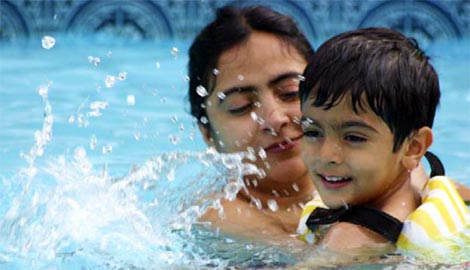 I RECEIVE many emails from people who are concerned about swimming pool safety; particularly those who have purchased holiday homes in Cyprus and other types of property that share swimming pools.
Regular visitors to the magazine will have read articles about the confusion that exists in Cyprus' current laws and regulations which designate all shared swimming pools as being subject to the same strict regulations as public pools.
Recently the Cypriot authorities have been tightening up on the regulations and have been refusing to issue operating licences and Certificates of Final Approval (a necessary pre-cursor to the all-important Title Deed) until developers provide them with all the necessary documents proving they have complied with the regulations.
However, there are many holiday homes whose Title Deeds that were issued before the recent clampdown. Swimming pools in these complexes often provide little, if any, protection for their users.
If you own a property in such a complex, then you can improve child safety. Published by the European Child Safety Alliance EuroSafe, 'Protecting Children and Youths in Water Recreation' contains a section on swimming pools and child safety.
Child safety: Swimming pools on holiday properties
Swimming pools pose the greatest risk of death and injury to children in a home or holiday setting. In Greece, famous for its countless beaches, almost all drownings of young children occur in swimming pools.
Similarly, in Algarve Portugal, a tourist region with over 150 kilometres of coastline, 83% of child drownings over the last 7 years have occurred in swimming pools. As well, more British children drown on holiday abroad than in Britain itself, most of them in swimming pools.
However, research shows that swimming pool drownings are preventable. The two most important factors in swimming pool drowning prevention are supervision and four -sided isolation fencing. The following information targets swimming pools in private holiday residences and apartments, although many of the same measures are applicable to other large pool settings. For more information on hotel pools specifically, please see the following page.
Why swimming pools can be risky for children and youth
Swimming pools present different dangers to children of different ages. Toddlers and very young children are at risk of falling into the pool and drowning, which usually happens in a brief lapse of supervision. Therefore, four-sided fencing is critical in blocking access to the water. Some drownings occur when children get caught under a pool cover, where they can not be seen nor free themselves. A firm cover as opposed to a soft cover is recommended to prevent this.
Pool alarms too are inadequate as a stand alone preventative measure. Alarms, which must be reset after every swim, are more likely to be incorrectly and inconsistently used, especially by tourists who might not understand the alarm system or who might not know what water level is needed for the alarm to be effective. Furthermore, most alarms have a "re-activating time" of at least 10 minutes between swims when they can not be activated until the water settles again, which leaves a frequent gap in protection. This underlines the importance of proper fencing and constant supervision for protecting young children.
Older children are at risk for head-first diving injuries. Recreational diving injuries cause 10% of all swimming injuries to children 14 years of age and younger. Recreational diving injuries also account for over 70% of all spinal cord sports/recreation injuries and occur most frequently in private pools to boys 11 – 15 years of age. A study of teenage diving victims with spinal cord injuries (causing paralysis) shows that 87% took place in swimming pools, that depth indicators were not present in 75% of the pools, and that there were no warning signs at 87% of the pools. In particular, pools in which there is a gradual incline have a dangerous transition area where 95% of spinal injury accidents occur. It is important that pools be adequately marked for safe diving depths.
Recommendations for residential/private swimming pool safety
The best protection is a four sided isolation fence with a self-closing, self-latching gate. Isolation fencing means that the pool is surrounded on all sides (rather than one side being connected to the house). The gate should be regularly checked and all guests instructed to double check its proper closure.
Depth markers should be used poolside to indicate safe diving and wading depths. Diving in water less than 1.2 metres deep should be expressly forbidden, a safer depth for recreation divers is 1.8 metres.
A spa or whirlpool should be covered at all times when not in use, with a fitted firm cover. Be sure the spa drain has been secured against entrapment risk (hair, small hands).
If you will not be providing personal flotation devices, instruct guests with young children to bring them themselves.
A telephone should be kept poolside for emergencies, and to prevent caregivers from dashing inside to take a call, leaving children unsupervised.
If you are using a pool cover or pool alarm, guests will require specific instruction and rehearsal on how to use these measures consistently and correctly.
Instruct guests to never reduce supervision of their children regardless of the precautions that are in place.
EU Swimming Pool regulations
In 2008, a new European Union standard relating to the design and operation of swimming pools came into effect. The standard is split into two parts:
EN 15288-1: 2008 Swimming pools – Part 1: Safety Requirements for Swimming Pool Design
EN 15288-2: 2008 Swimming pools – Part 2: Safety Requirements for Swimming Pool Operation
Both France and Spain have introduced laws to protect youngsters in both private and public pools. It is only a matter of time before EU laws, based on the above standards, are introduced.
In France the penalty for not having a pool safety barrier is up to €45,000.