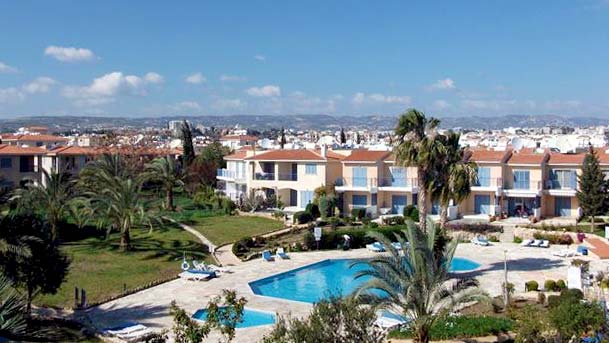 YOU MIGHT expect that with building permits tanking, construction reeling and prices plunging we were looking at all those factors which should shortly create conditions for a strong market upswing, but that is not going to happen in the holiday homes market in Cyprus any time soon, even with the huge 'overhang' of unsold units from the last 'boom'.
In 1990, if you had wanted to buy something on the Larnaca/Dhekelia road, the price, converted into euros, would have ranged from €17,500 for an apartment to €50,000 for a small house.
Ten years later, a small house in Protaras would have cost you around €120,000 and that same house five years later in 2005, around €220,000.
At this point, the holiday homes market was dead in the water with the average price of a holiday home in Cyprus exceeding the price of a house in Wallsend, near Newcastle.
The boom was on its way out, but many new developers did not realise that until later on and continued to build, borrow, and take deposits as if all was well.
Up until then, the 'early settlers' didn't understand price except by reference to back home, namely "much cheaper than the UK". They certainly didn't understand registered.
The thought that Cyprus operated under an English system obscured all.
Beating prices in Wallsend, the advent of social media, the advent of opportunistic developers, the huge publicity given to such as the O'Dwyer case, and the someone knowing someone who didn't have title deeds or even the remotest chance of them began to take a heavy toll long before the financial crisis and later, the kourema or haircut.
According to the theory we should now have started seeing buyers come back into the market.
Prices have fallen up to 50 per cent. Wallsend is more expensive again. Yet in the first two months of 2013, there were three, yes, three transactions in the Famagusta district, involving foreigners, who, don't forget, made up 80 per cent of buyers in the holiday homes market in Cyprus.
We are forced to conclude, either that potential buyers believe that prices have still further to fall, and I agree, or that these markets are not at present price sensitive, with which I also agree. So what's in the way?
You would have to be certifiably insane or just plain awash with money to even begin to think about buying a holiday home in Cyprus at the moment. This government and the last have really done nothing at all to resolve the title deeds disaster.
Christofias' 'amnesty' was a help for solvent, reputable developers, but for the insolvent and those developers who never intended to provide deeds, it did absolutely nothing to advance the case. More seriously, it showed the impotence, or unwillingness, of the government to deal with this at all, and that is the message to the world.
Much of what is available for sale, not only doesn't have title, but if it does, it is old and needs refitting. Or frankly, it is crap: poorly located or positioned, densely developed and with neglected, overgrown, run down common areas.
Almost nobody wants to buy a holiday home in, say, Frenaros or Dherynia. It would be tough to shift much of this available stock or planned projects at any price.
Meanwhile, taxation has increased: now we have VAT and property tax that actually has to be paid and we know that it is going up progressively.
The scams of super inflated service charges and signing fees are now all well-known too. The solvency of developers is another issue, and, if not, then confiscation or repossession by the banks will be.
There has also been a fall in Russian buyers due to EU sanctions.
And let's not forget the unavailability of credit and the fear of Cyprus' banks, not just due to capital inadequacy and non-performing loans (NPLs), but previous scams like the promotion of Swiss franc denominated mortgages.
The poor regulation and doubts about performance standards of lawyers and estate agents and other service providers also comes into play, and the anti-foreigner sentiment.
Now, whether any of this is right or wrong is in a way irrelevant. It is however what potential overseas buyers perceive.
Make no mistake, unless something seismic happens this is where we are headed. Instant sticking plasters like primary residence protection are all well and good, but no substitute for a comprehensive overhaul to make the system work instead of trying to fix a broken outdated system.
If I were a bank I'd be spending a lot of time in the toilet
If I were a bank, I think that I should be spending quite a lot of time in the toilet. You cannot deal with 47.47 per cent NPLs without a market. We don't have a sufficient market.
That is not to do with price and even if it were, prices falling further wouldn't help the banks. It is to do with structure, and in my opinion, only the government, in consultation with serious industry players can fix that and at present there is no sign of the realisation of the extent of the problem.
The government cannot keep its head in the sand. The sooner we have a modern land law and tenure system, the financially safer we shall be.
For those of you who are still awake, you will by now have realised that although there was a market downturn, buyers long ago got sick of the system, the lack of quality, and greedy prices.
In other words the system is broken. There is a danger that exactly the same is now going to happen to tourism, the nation's only remaining industry.
It's of such poor quality and very expensive, and there is no respect for the customer or understanding of their needs. Without tourism, the kindling for the holiday home markets also goes away as well. Kalinikta. It's margarita time.
About the author
Philip Beardwood, Bsc Est Man FRICS, is a real estate professional.